Streamline your Workflow
Print Manager
PhotoStation Print Manager will speed up the previously complicated routine of matching orders with prints and correctly printing the right sizes. It is designed to effortlessly catalogue customer orders sent from GenieSTAR kiosks, process print jobs, manage customers' contact information and shopping histories, and view daily/monthly printing status reports. With PhotoStation Print Manager, users can easily increase efficiency by diminishing order handling times down to mere seconds.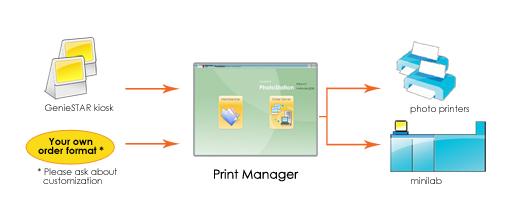 software key features:
Receive and print orders

As soon as a kiosk order is received, users are able to print without delay. PhotoStation Print Manager automatically retrieves orders from the GenieSTAR kiosk software; the software can read and display the order data in an easy-to-read format. PhotoStation Print Manager clearly shows all the order data users need to quickly select and print either all or specific orders. Orders can be re-printed with ease as well.

Preview orders

On the preview page, users can view thumbnails of all the images within the order. The preview function allows users to rotate images, adjust colors, and fine-tune cropping. An optional automatic red eye reduction tool is also available.

Manage customer information

Our Membership Manager creates daily or monthly reports and allows users to track customers. Users may track customer data such as names, addresses, e-mail addresses, phone numbers, and shopping histories.