PhotoStation Professional
PhotoStation Professional with PhotoBook+Gift
The GenieSTAR PhotoStation photo kiosk software gives customers flexibility. The software comes with multiple language packs that includes English, French, German, Italian, Lithuanian, Russian, Spanish, traditional Chinese, and simplified Chinese. Depending on business necessities in your area, you can decide to have PhotoStation Professional either with or without PhotoBook. See more details about PhotoBook here.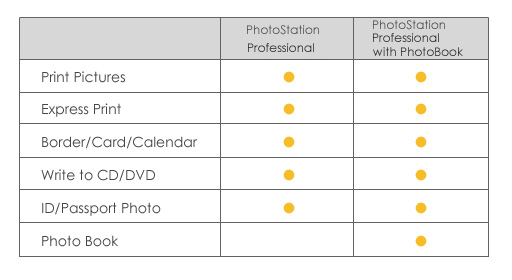 The software is also effective for photo lab owners that prefer using GenieSTAR PhotoStation in the lab; it can easily be configured so that the owner can access all folders of the hard drives and media cards. In addition, if you do not wish to use a touch screen monitor or mouse to operate the software, keyboard shortcuts can be used to efficiently process customers' orders.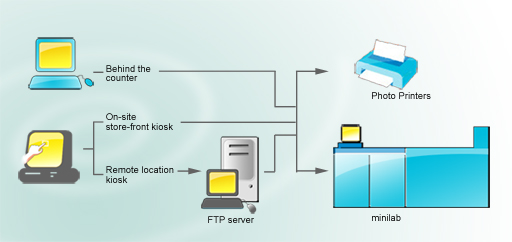 Digital Camera (Secure Digital Card, CompactFlash Card, Smart Media Card, Memory Stick, Memory Stick Pro, IBM Microdrive, MultiMedia Card and xD-picture Card media formats)
CD (CD-ROM)
Disk (Floppy Disk)
USB (Flash Drive)
Bluetooth device
Receipt Printer

The receipt includes customer and sales information.
Inkjet Printers, Dye-Sub Printers, Digital Minilabs

For example, print photo directly from Noritsu QSS / dDP series minilabs,
Fuji C8 / PIC / PIC Pro, and AGFA d-lab / MSC100

back to top
PhotoBook+Gift
PhotoStation Professional with PhotoBook+Gift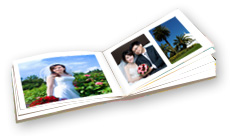 PhotoBook is included in PhotoStation Professional with PhotoBook software. PhotoBook allows you to:
select a book size
select a theme for the book
select and preview photos
edit and enhance photos
automatically or manually arrange photos on each page
preview the completed book
binding options:

available book sizes*:
imperial book sizes:
5" x 5", 5" x 7" landscape & portrait, 8" x 8", 8" x 10", 10" x 10", A4 landscape & portrait, 8.5" x 11" landscape & portrait
metric book sizes:
13cm x 13cm, 13cm x 18cm landscape & portrait, 20cm x 20cm, 20cm x 25cm, A4 (21cm x 30cm) landscape & portrait, 25cm x 25cm
*Contact GenieSTAR with book size suggestions

back to top